Mobile Truck and Trailer Service
At Young Trucks, we bring reliable, expert maintenance and repair services to you - wherever and whenever you need us most - with mobile truck and trailer services for medium- and heavy-duty trucks and trailers. Our team will provide a solution that brings the most current tooling, technology, and warranty expertise to your facility and your trucks in the field. Owner operators and fleets rely on Young Trucks' mobile truck and trailer service for:
Mobile On-Site Preventative Maintenance
Mobile On-Site Repairs
Emergency Roadside Assistance
Class 6, 7, and 8 Trucks and Trailers
All Makes and Models
Warranty Assurance (to safeguard against upfront charges on warrantable repairs)
Flexible Scheduling
Extensive Medium- and Heavy-Duty Truck Parts Inventory
Emergency Roadside Assistance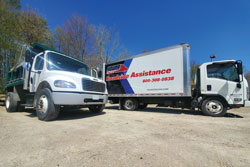 Contact our Mobile Service team for Emergency Roadside Assistance on all truck and trailer makes and models across more than 13 counties in parts of Northeast, Central, and Southeast Ohio. Plus, we offer national roadside assistance support under our FLEET PROTECT program.
Equipped with factory computer diagnostics software for Freightliner, Volvo, Isuzu, Cummins, Detroit, and more, we're able to:
Diagnose issues with engines, transmissions, anti-lock brakes, as well as common treatment control issues
Monitor data and fault code issues
Research proper troubleshooting and repair info
Perform many repairs in the field, including hydraulic and liftgate repairs
Preventative Maintenance
Preventative maintenance is the key to uptime, and as part of a full-service commercial truck dealership group, the Young Trucks Mobile Service operation offers customized fleet maintenance plans, quick access to common OEM and aftermarket parts, and can perform DOT inspections and scheduled service at your facility.
Mobile Trailer Repair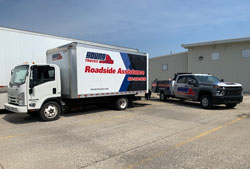 As an extension of Young Trailer Shop, our mobile truck and trailer service team utilizes Mobile Universal Trailer Testers (MUTT) for efficient issue diagnosis. Whether one trailer roadside or a fleet of 50 in your yard, we'll come to you and handle brakes, lights, leaking roofs, and more.